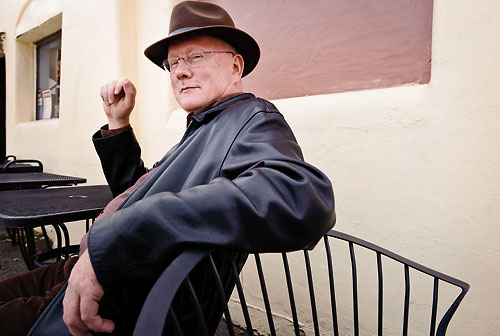 Captain Neil Low
42 Years On
Current: Commander, Metropolitan Section
I got shot at while I was a police cadet in 1968.  I was working in Georgetown, sitting at the clerk's desk, near the front window.  I didn't carry a gun because I was 19, but I wore an official police uniform.  This was during the height of the Civil Rights upheaval, and somebody fired a rifle shot into the building.  It passed very close to where I was sitting.  I just thought at the moment that someone was throwing firecrackers.  Bad joke.  The lieutenant wanders out of his office and says, "Did you throw a firecracker, kid?"  I said, "No."  He went over to the window and found the hole, and he said, "Kid, you've been shot at."  I had about a month on the department at the time, and the lieutenant told me it could be a harbinger of things to come, or it could never happen again.  "This is your moment to decide if you want to make police work your career or not."  That was my dose of reality.  Forty-two years later, it's obvious I made it my career.
One of my most memorable assignments was as part of the team that protected the sole survivor of the Wah Mee Massacre which happened mid February 1983 at a Chinatown gambling club where 14 people were left for dead.  The killers tied the hands of all the people before they shot them.  The survivor, Wai Y. Chin, crawled under a table.  The shot went through his jaw, instead of the back of his head, and he feigned death.
Once we picked Mr. Chin up from the hospital, we took him to a facility and set him up in a room wired with inside and outside cameras.  There were always four heavily-armed detectives inside there to protect him.  We needed a team of 13 people so we could have four working around the clock.  If we moved him, sometimes we all needed to be there to make it happen.  Our job was to keep him alive so he could testify against the three that were eventually convicted.